Headquartered in Surrey Research Park, Earth-i takes an active role in supporting the UK space industry. They actively sponsored this year's UK space conference and maintain close ties with industry leaders, co-located with companies such as Surrey Satellite Technologies, manufacturers of their new satellites, and the country's largest academic research centre: The Surrey Space Centre.
Since 2013 Earth-i have been providing very high resolution imagery from three identical, British-built satellites. The DMC3/TripleSat constellation offers daily revisit opportunities to any location on Earth, multispectral imaging and scene capture individually or in strips up to 175 scenes long and a very wide swath width (23km). Across track and along track stereo imaging are also available. These satellites have found uses across industries including agriculture, wide area mapping and disaster response. Their combination of rapid revisit times and very high resolution is unmatched in the industry and Earth-i's rigorous quality standards are maintained throughout acquisition and processing. Last year, these values were recognised by the State government of Queensland, Australia.
Queensland's Department of Natural Resources and Mines (DNRM) awarded Earth-i the contract to supply very high resolution, optical data of the the entire state. DNRM will be using the data to update their geospatial database. No other satellite operators were able to provide the same resolution of images, with a similar frequency of acquisition at such a competitive rate.

©Earth-i ©21AT All rights reserved
To meet the needs of the DNRM, Earth-i provide a complete end-to-end service that covers acquisition, processing and delivery. Speaking about the contract, Steve Jacoby, Executive Director of Land and Spatial Information, DNRM, said: "We are delighted to have awarded the contract to Earth-i. They demonstrated a clear understanding of our needs in Queensland, the DMC3/TripleSat Constellation provides us and other Queensland government departments with both the wide area capability and the very high resolution imagery required to meet the needs of the user community. We were impressed with the professionalism of the Earth-i bid and the quality of data we will be able to work with to support a wide range of applications."
At the UK Space Conference held in May Earth-i announced plans to launch and operate Europe's first commercial constellation to offer both video and imagery. The announcement was greeted with excitement and interest from across the industry.
The launch of its own constellation is a natural evolution of Earth-i's existing and well-regarded image and Earth Observation analytics business and will enable it to meet the rapidly growing demand for high-resolution Earth Observation data from traditional end-users and the growing sector for big data analytics and insights drawn from such EO data.
Using advanced, proprietary technology mostly developed in the UK and already proven on small satellites designed by the world's leading small sat experts, Earth-i has commissioned a highly sophisticated small satellite for its constellation. The building of the constellation begins with the 2017 launch of Earth-i's first prototype satellite (expected later in the year). Named by Earth-i 'EiX2', the satellite is being manufactured and launched in partnership with Surrey Satellite Technology Ltd (SSTL), part of the Airbus Defence and Space Group and originally spun off from the University of Surrey.
This R&D satellite will be used to test performance and demonstrate capabilities for the future constellation including tasking, data downlinks to ground stations, and image quality and video from space before the launch of commercial satellites planned for 2019.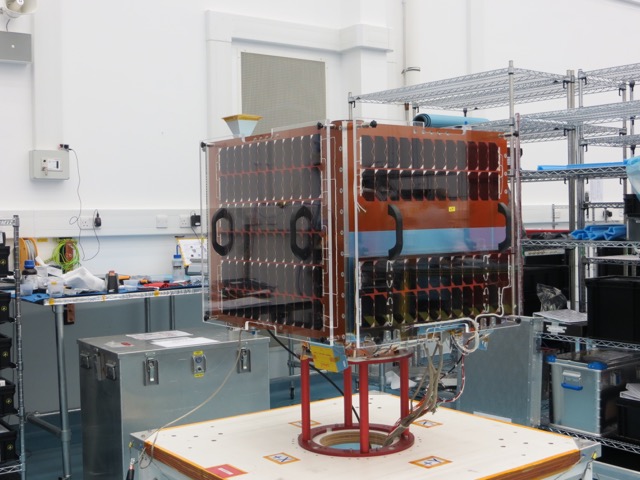 During this time Earth-i will also be developing a cutting-edge service that will enable easy acquisition and analysis of imagery, and use advanced algorithms to extract value from the data. The use of video enables more images to be captured which can be stacked to create virtual 3D models.
Richard Blain, CEO of Earth-i, said: "We're now at the forefront of the commercialisation of space and the rapid evolution of the New Space market. We're a well-funded, capable and confident business that is following a different route to our US counterparts. We have designed and developed our constellation for organisations that need to strike a different balance between the cost of acquiring data from space, and access to sufficiently high-resolution of quality images and video to enable the detailed analysis that will help to further improve their own performance and capabilities. Owning our own constellation will enable us to completely customise our offering because we'll have total control over mission planning and tasking, as well as assured access to our own significant global data source. We are also pioneering new value-added services and big data analytics that promise to extract the highest value from space data, as well as working with partner organisations to support in the delivery of global services."

Josef Aschbacher, Director of Earth Observation at the European Space Agency, said: "There is an almost insatiable demand for data from space as people are realising its true value to both their planning and daily operations. Higher resolution image data from commercial organisations is likely to be very valuable either in its own right or when used in conjunction with other data sources including medium-resolution image data such as that provided under the European Copernicus Programme."
For more information please visit www.earthi.space and follow on twitter and linkedin